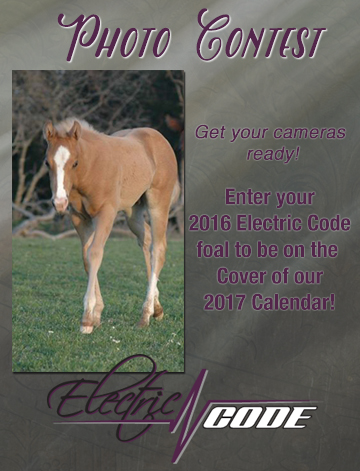 Win a free breeding to Electric Code!
Be a part of our Electric Code photo contest and show off your 2016 babies! We're excited about the really nice Electric Code foals we've been seeing, and we're creating a 2017 calendar filled with photos of 2016 foals sired by Electric Code. Here are the guidelines:
Photo submission deadline is October 15
Open to photos of 2016 foals
Limited to 4 entries per person
No humans in the photo
Include photo, the Owner name, Foal name, and Dam name
E-Mail photos to kleclair61@gmail.com
---
Photos will be posted on Electric Code's facebook page. The photo with the most "likes" will grace the calendar cover and the owner will
win a free breeding to Electric Code
(excluding chute fee).